Introducing the New MXroute Webmail Upgrade: All Your Email Needs in One Place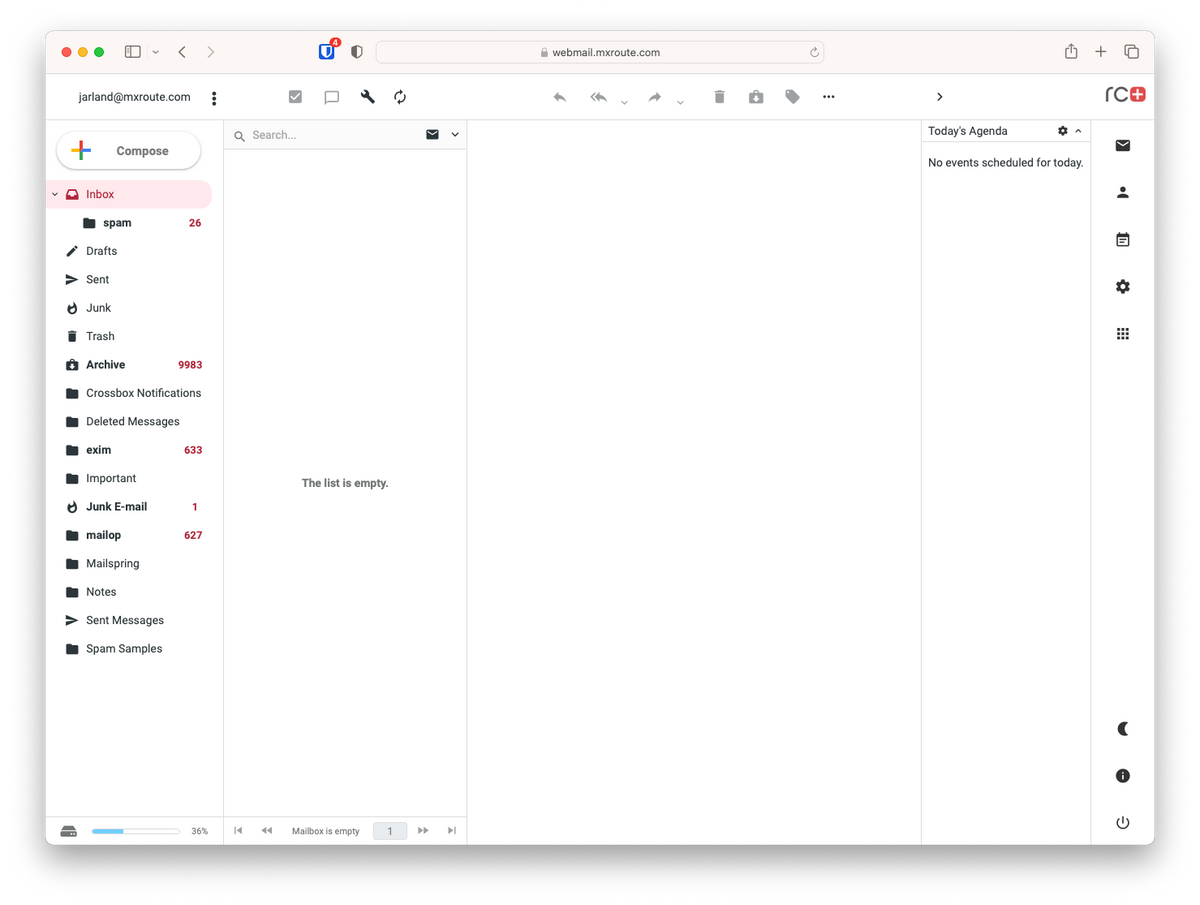 We are thrilled to announce a significant enhancement to MXroute's webmail service. After careful consideration and listening to our users' feedback, we have developed an in-house webmail solution that combines all the features users desire into one convenient platform. With this upgrade, we aim to provide a seamless experience for our customers, including the integration of CalDAV, which have been highly requested features. Additionally, we are introducing a unified Roundcube instance, eliminating the need for customers to remember individual server URLs.
See it for yourself: https://webmail.mxroute.com
CalDAV Tutorials: https://roundcubeplus.com/tutorials/caldav/calendar-applications
Exciting New Features: Our revamped webmail service offers an array of features to streamline your email experience. Here's what you can expect:
CalDAV Integration: By incorporating CalDAV support, we enable seamless synchronization of calendars across various devices and platforms. This addition ensures that you have access to your important scheduling whenever you need it, from any device.
One Unified Web Address: Gone are the days of remembering multiple webmail URLs for different servers. We have created a single web address that serves as a centralized hub for all MXroute customers. This means you can now access your webmail account without the hassle of searching for the correct server URL. Simply log in using the unified web address, and you're good to go.
Important Considerations: While we're excited about this upgrade, we want to highlight two key points to ensure a smooth transition:
Beta Quality: We consider our new webmail solution to be in the "beta" phase. Although we have extensively tested it, there might be some unforeseen issues or room for improvement. We appreciate your patience and feedback as we continue to refine and enhance the system based on your valuable input.
MX Record Configuration: For the webmail login to function seamlessly, it is vital that your MX records point to our servers and are resolvable. This configuration enables us to dynamically allocate the appropriate back-end server for each email account. If your MX records are not correctly set up, the webmail login may fail. Our support team is available to assist you with any MX record configuration queries or concerns you may have.
Conclusion: At MXroute, we are committed to providing our customers with an exceptional email hosting experience. With our upgraded webmail service, we have integrated highly requested features such as CalDAV support while also streamlining the login process by implementing a unified Roundcube instance. We acknowledge that this is a beta release and invite your feedback as we work towards making further improvements. Ensure your MX records are correctly configured to take full advantage of this enhanced webmail experience. We look forward to continuing to serve you with reliable and user-friendly email solutions.
Note: For assistance or inquiries regarding the webmail upgrade, please reach out to our support team, who will be happy to help. This webmail instance may not be compatible with our legacy cPanel servers.